American Capitalism Isn't Broken After All
Contrary to recent reports, productivity is still the key to prosperity.
by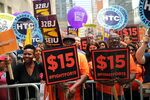 One of the best-loved stories about the squeeze on middle-class incomes in the U.S. concerns the long-term divergence between wages and productivity. This goes as follows: Wages have stagnated for decades even as output and profits kept going up. Owners of capital grabbed all the gains.