Editorial Board
What Obama Should Say in Africa
Greater prosperity will come with more accountable politics.
by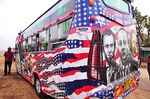 Africa is on the verge of fulfilling its huge economic potential -- and has been for decades. As Barack Obama embarks on his fourth and probably final visit to Africa as U.S. president, he needs to emphasize that the key to lasting prosperity is more accountable politics.
Africa's 1.1 billion inhabitants, fast-growing economies and cheap labor make it the final frontier among emerging markets. Sub-Saharan countries have averaged an impressive 5.2 percent growth rate since 1995; by 2025, the World Bank is likely to classify three out of five African countries as middle-income.
Obama has little to offer by way of taxpayer money. But his planned speeches at the Global Entrepreneurship Summit in Nairobi, Kenya, and at the African Union headquarters in Addis Ababa, Ethiopia, provide the ideal opportunity to make the point that democratic institutions, market-friendly economic policies and adherence to the rule of law will make it easier to attract U.S. investment.
The U.S. can certainly help Africa's more advanced economies, including those of Kenya, Nigeria and South Africa, take better advantage of the recently renewed African Growth and Opportunity Act, which allows many African goods duty-free access to the U.S. Obama can also encourage African countries to move away from their reliance on natural-resource exports. Non-diversified African economies have recently felt the sting of declining demand for oil and other commodities.
To attract foreign investment and speed up industrialization, the White House should encourage African countries to form regional pacts. For instance, the East African Community -- an intergovernmental organization representing Burundi, Kenya, Rwanda, Tanzania and Uganda -- should move toward a true free-trade zone to make border crossings easier and financial transactions less costly.
Another way to encourage international trade is with better infrastructure, especially in densely populated urban areas and across borders. Even though Africa saw public-works spending triple between 2004 and 2012, it still needs more and better highways, railroads, ports, electric power, and water and sanitation systems.
Increased trade, however, won't happen unless businesses are confident that checks and balances are in place. Public corruption cannot be tolerated, and elected officials have to be answerable to the public for their policies.
Burundi's botched elections this week are a reminder, if anyone needed one, of how political opportunism can cause civil unrest and upend progress; the violence there has spawned a regional refugee crisis with disastrous economic consequences. And leaders in Kenya and Ethiopia have proved all too willing to use crackdowns on terrorist groups as cover for suppressing the news media and political opponents.
The U.S. has been unacceptably quiet on these issues. It shouldn't be: Imitating China is not the way to counter China's growing influence -- politically and economically -- in Africa.
In the last few years, Obama has unfurled one program after another designed to show his administration's commitment to increased trade and investment with Africa. This week's trip is an opportunity to remind Africa's leaders that the stability necessary for economic growth cannot be achieved without better accountability.