How Terror Attacks Weaken Islamic State
Angering its neighbors isn't good strategy.
by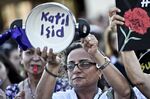 Turkey's airstrikes against Islamic State and its decision to allow U.S. warplanes to operate from its air bases are in direct response to terrorist attacks in the Turkish town of Suruc earlier in the week. The cause-and-effect relationship highlights what's becoming a central strategic dilemma for Islamic State.