Why German Startups Fail
An e-grocery service's strangulation by regulation offers a case study.
by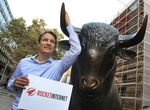 In March, the long-vacant commercial space on the ground floor of my apartment building in Berlin was taken over by Shopwings, an online grocery-delivery service developed by Rocket Internet, the flagship company of the city's hot startup scene. This week, the space was empty again. The story of the company's rise and fall helps explain why Berlin, or any European startup hub, is not Silicon Valley.
Rocket Internet, a startup factory run with an iron hand by the three Samwer brothers, went public in October 2014. The offering, the biggest in German tech in 14 years, valued the company at $8.4 billion. At that point, Shopwings was just a concept. Here's what the IPO prospectus said:
Shopwings is a grocery shopping platform that allows customers to order groceries online with same-day delivery through personal shoppers selected by Shopwings. It is expected to launch in the fourth quarter of 2014.
The website, a clone of the successful U.S. service Instacart, began operations soon after the IPO. Customers would enter their postal code, got a list of the nearest supermarkets, and paid a fee of 4.90 euros ($5.40) for delivery.
I made my first order the day after the Shopwings office opened in my building. A harried "personal shopper" showed up within two hours. Some items were missing, the wine I had asked for had been replaced with a kind I didn't want, but hey, all services have kinks in the early days.
I placed a second order the following weekend. This time, everything went wrong. I waited for more than three hours and about half the stuff I wanted wasn't delivered. When I pointed out the problems to the courier, he told me to call the customer hotline, then raced down the stairs. I didn't call, but I never used Shopwings again.
Two weeks ago, a neatly handwritten letter from Shopwings landed in my mailbox:

It thanked me for being one of the first clients and asked why I'd been using the service "less frequently." I'm a sucker for the personal touch, so I described my previous experience in an e-mail and prepared to give Shopwings another try.
Too late. Six days ago, an e-mail from Shopwings said it was "time to say goodbye." "We are sorry to inform you that we have decided to put our German operation on hold and focus on other countries."
It's easy to see what happened. Shopwings used freelancers. The 4.90 euros fee wasn't sufficient compensation for the time spent shopping and delivering orders. The company tried to price products higher than the supermarkets it purchased from. But in Germany, the land of the grocery discounter, shoppers have a good idea of how much food costs, so the markups couldn't be large. According to the business magazine Capital, Shopwings counted on the supermarket chains to pay a percentage for the business it drummed up for them, but they weren't interested. For one thing, profit margins are already thin in the hypercompetitive market, and for another, if my experience is anything to go by, Shopwings couldn't drive enough volume to entice mammoth retailers such as Lidl, Aldi and Edeka.
There was another peculiarly European twist to Shopwings' failure in Germany. Since January, European Union laws require all food sellers to clearly display an item's ingredients and nutritional value. Shopwings failed to prove to the German regulator that it was just a delivery service, because customers were picking items from its website, not those of the stores. Entering information for the 10,000 products listed in Shopwings' catalog was a hassle the startup didn't want to take on.
Rocket Internet has a low tolerance for failure. In fact, according to the 2014 edition of the German Startup Monitor, 63.3 percent of startup entrepreneurs say this attitude is widespread in German society. Instead of fighting on in Berlin and Munich, and trying to expand Shopwings to other German cities as originally planned, Rocket pushed it to try other countries and regions. Rocket companies operate in Asian and African markets, which don't have the same constraints as Germany.
As for Rocket itself, it constantly needs money to get new companies off the ground. This week, it announced a 550 million euro convertible bond issue that can be exchanged for 6.2 percent of the company's stock. The announcement caused the stock price to tank. Rocket, which lost money last year, now trades 19 percent below its IPO price.
This setback to the biggest company on the Berlin startup scene, a city that accounts for 39 percent of all startups in Germany, isn't an inspiring success story. Europe's regulatory barriers, capital constraints, ingrained habits -- and often the penchant for slavishly imitating U.S. success stories -- put even its most advanced tech hubs at a disadvantage.
To contact the author on this story:
Leonid Bershidsky at lbershidsky@bloomberg.net
To contact the editor on this story:
Max Berley at mberley@bloomberg.net
Before it's here, it's on the Bloomberg Terminal.
LEARN MORE