Iranian Oil Could Hurt Russia and the U.S.
Current oil prices are barely high enough for U.S. frackers and the Russian government.
by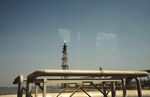 The U.S. and Russia have taken a big gamble with the Iran nuclear deal: It threatens both countries' oil industries and, in Russia's case, also its economic growth. Much depends now on whether Iran can ramp up oil production as fast as it says, and on whether speculators react to these efforts as they did to news of the deal.
The price of Brent crude rebounded last spring, reaching a peak of almost $68 per barrel on May 6, but then plunged to $56 in early July as the Iran talks showed signs of progress. Analysts mentioned other reasons for the drop -- the uncertainty over how the Greek crisis would affect European demand, the Chinese stock crash -- but any speculative influence these might have had on the oil price is gone by now. When the Iran deal was reached on July 14, Brent remained at $56 per barrel. 
This is close to the price that both Russia and the U.S. can tolerate without incurring major losses.
Russia's budget assumes that the country's export oil blend, Urals, will sell for $50 a barrel this year and $60 next year. The current price is about $55. If it drops to $50 or below, Russia may face continued recession in 2016 rather than 2.3 percent growth, as the government predicts. Even the current price will increase the budget deficit and force government spending to contract. In a country dependent on oil and gas for 17 percent to 25 percent of its gross domestic product, an inevitable drop in oil companies' investment is also a considerable worry that won't be outweighed by any increase in nuclear or oil and gas cooperation with Iran.
In the U.S., the fracking industry appears to have stabilized at oil's current price. After a slight drop in May, U.S. output rose to about 9.6 million barrels a day, and it's stayed at that level for the past two months. Rig counts have stopped dropping, though they're not rising, either. "As long as crude oil holds above $50 a barrel, activity levels may not decline further and may remain in a holding pattern," Bloomberg Intelligence analysts Andrew Cosgrove and William Foiles said in a recent report. As it is, the smaller American fracking companies are threatened. They will probably be acquired by bigger ones, so production won't decline. But if the price dips below $50, bigger players will also be in danger.
Low prices, of course, follow in part from weak demand. At the moment, the global oil market is oversupplied by about 800,000 barrels a day, according to Morgan Stanely. The Organization of Petroleum Exporting Countries -- which Morgan Stanley says is responsible for the excess production -- predicts that, in 2016, demand will increase by 1.34 million barrels a day. But this is where the Iran factor comes in: Its production increase after international sanctions against it are lifted could mean the difference between a balanced market and continued oversupply. 
Iran's oil minister, Bijan Namdar Zanganeh, would have Americans and Russians alike believe the worst. In June, Iran pumped 2.85 million barrels a day, but Zanganeh says it should be up to 4 million barrels a day within seven months of the sanctions' removal. From there, according to the minister, production could quickly rise to 4.7 million barrels. Iran's goal is to regain its former market share. "Those who are responsible for protecting prices are those who have filled our share before and used it," Zanganeh said.
If this plan is carried out, Iran would unwittingly help Saudi Arabia, its arch-rival, to squeeze U.S. producers. But are Zanganeh's numbers achievable? Richard Nephew of Columbia University's Center on Global Energy Policy predicts that, six to 12 months after sanctions are lifted, Iran will add only 300,000 to 500,000 barrels of oil a day to the market, because the country's oil fields are suffering from underinvestment. Rejuvenating them will cost more than $50 billion, and that kind of money won't necessarily be available. Nephew wrote:
Certainly, Iran will be able to put its stored oil – estimated at 30-40 million barrels – on the market. But, that is a lot of oil to discharge at once and Iran will take a price hit if it wishes to move it fast. After that, Iran will have to ensure that its new production increases, and it will be fighting for market share it lost three years ago. This would be hard, even in a higher oil price environment. At today's price levels, it will be a major challenge.
If Nephew is right, does it mean the price of oil will rise? It's hard to say, because the price isn't determined by supply and demand alone. A steady stream of news from Iran about increasing oil exports and deals with global oil players could still prompt speculators to bid oil down.
For now, both the U.S. fracking industry and the Russian economy, which is dependent on a largely state-controlled energy industry, are destined to walk a tightrope that Iran, or news from Iran, can easily yank. The balance is fragile, and would have been less so without the nuclear deal. Yet Moscow and Washington alike must have seen advantages in the deal that outweigh the oil risk. One of these could be a political trade-off between them: cooperation in the Middle East in return for a chance to freeze the conflict in Ukraine. Alternatively, both Russia and the U.S. could simply be betting on the benefits of economic expansion into Iran. In either case, the cost -- expressed as another oil price collapse -- could turn out to be higher than expected.
This column does not necessarily reflect the opinion of the editorial board or Bloomberg LP and its owners.
To contact the author of this story:
Leonid Bershidsky at lbershidsky@bloomberg.net
To contact the editor responsible for this story:
Mary Duenwald at mduenwald@bloomberg.net
Before it's here, it's on the Bloomberg Terminal.
LEARN MORE