Clinton Can Bore Reporters All the Way to the White House
Her toxic relationship with the press can hurt her. Here's how to change it.
by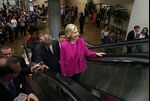 At some point on the long, hard slog toward 1600 Pennsylvania Avenue, Hillary Clinton is going to need the people whom she least wants. Safe passage to the White House will require an audience with, perhaps even a benediction from, the lizard kings of the campaign trail: political reporters.