What Happens After the Coal Plant Closes?
Opponents say EPA rules will devastate coal country. Three towns in West Virginia say otherwise.
by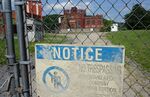 Roger Titchenell, mayor of Albright, West Virginia, a coal-plant town that lost its coal plant, isn't angry at the Environmental Protection Agency. He's not mad at FirstEnergy Corp. for closing the town's 63-year-old plant, blaming new EPA regulations. Titchenell's frustration is more mundane: He just wishes the company had paid for the new park fence he says it promised when it left town.