Trump Is a Godsend for Huckabee
At the debate, rivals will look good by comparison.
by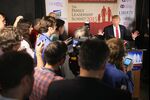 The circus surrounding Donald Trump's presidential run is a big opportunity for Republicans as they prepare for their first presidential debate set for Aug. 6. This is especially true for the candidates who are trailing in the polls but may be invited to take part because they make it into the top 10.