The Conscience of E.L. Doctorow
Author of "Ragtime" and "Billy Bathgate" was more than a masterful writer.
by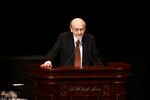 I met E.L. Doctorow only once. We were introduced by a mutual friend at the National Book Awards dinner a couple of years ago. A writer of his eminence is accustomed to praise, and I expected no more than a polite response to my plaudits, but he took the time to talk. When he learned that I occasionally taught his novel "Ragtime" in my legal ethics courses, the gentle eyes went wide with wonder and delight. He immediately began working through the relevant issues in the novel. I could scarcely keep up with the outpouring of wonderful ideas. Doctorow was in his 80s, but his agile mind sparkled.
Doctorow, who died this week at 84, was among the great masters of the novelist's craft. I was in my early 20s when I first picked up "Ragtime," his luminously brilliant tale of race, gender and capitalism set in the early 20th century. I was captivated from the first page, and finished in a single day. Doctorow could do that to you. His words were a form of transport, carrying the reader effortlessly into other eras, other settings, other lives. To read him was to surrender to the power of his prose.
His books taught lessons. Each had a conscience. And he penned masterpiece after masterpiece. "Ragtime" is widely acknowledged as among the finest novels ever committed to paper, but it hardly stands alone. "Billy Bathgate" may be the best novel ever written about organized crime. (There are echoes throughout Martin Scorsese's "Goodfellas.")  Doctorow's most recent novel, last year's "Andrew's Brain," delivers a witty if sad take on the endlessly self-referential character of so much of today's dialogue, as well as a gentle teasing of the tech-savvy.
Doctorow was known for what I suppose are still called period pieces, but within that genre, his novels were of endless variety. He could write for chills, as he did with "The Waterworks." He could do hard-edged political critique, as in "The Book of Daniel." He could do nostalgia, whether dewy-eyed ("World's Fair") or hard and bitter ("The March"). He could write the philosophical and surreal ("City of God") or the interlocking stream of consciousness ("Loon Lake").
In all of this, Doctorow never lost sight of his obligation to be not merely a novelist but a writer. He loved the language. Even as the reader became lost in the beauty of the story, there always lurked the trembling pleasure of knowing one was in the presence of a true craftsman. Budding novelists could find no better model.
Because Doctorow could write. Oh, but he could write. His words flowed, painting swift, memorable pictures. Here's the view from a car in "Billy Bathgate": "She turned east and Onondaga was a church spire and some rooftops in a nest of trees, and then we went around a hill and it was gone." Or consider this description, from "Ragtime," of spring:
"Like a mad magician flinging silks and colored rags from his trunk the earth produced the yellow and white crocus, the fox grape, the forsythia flowering on its stalks, the blades of iris, the apple tree blossoms of pink and white and green, the heavy lilac and daffodil."
Doctorow's method was to immerse himself in another time, and bring it excitedly to life. His great love was Greater New York and its history. The city was in effect a character in many of his novels. He could center us in the late 19th century with his description, in "The Waterworks," of "the reporter who disdained the great national story of the West to make stories out of paving stones pounded with horse droppings, and the street birds picking out their meals there." In "World's Fair," he drew us into the great city in the 1930s: "A dazzle of noise and disparate intention, jackhammers punching holes in the street, cars and trucks flowing past obstructions, yellow cabs with their skylights, double-decker buses, the great liners in the harbor blowing their basso horns."
Doctorow was more than simply a great writer. He was also a profound thinker. Before making his name as a novelist, he put in time as an editor. He worked with Ayn Rand, who might seem, politically, very much his opposite.
Yet he was, like all writers, an individualist. We met on the night he was to receive the Medal for Distinguished Contribution to American Letters. His remarks on that occasion are well worth reading. According to news reports, Doctorow attacked the Internet, but that isn't quite true. He was, as always, subtle. Yes, he poked his share of fun at the pretensions of the virtual world and its most adamant champions. The Internet that, he said, "exploded instantly into being has to do with a population putting itself eagerly into its arcane service, as emigrants swearing fealty to a new world ... as if, with its appearance, it created the people necessary to maintain it." He warned of its cocooning effect: "Like any web, it can wrap itself around you." And, like many writers, he wondered about the effect the virtual world is likely to have on the craft.
But the largest challenge facing the profession, Doctorow warned, was not the Internet but the surveillance it made possible. He worried that writers, concerned about who was looking over their virtual shoulders, were nowadays tending toward self-censorship. This he saw as a mistake. Those who love the written world must be involved in what Doctorow described as a war for the future of Western democracy: "The struggle has begun as to who will rule that webby other world -- government data miners and the corporations in step with them, or everyone else? We'll have to pull ourselves together and, reluctantly or not, join that struggle."
So we will miss the power of his conscience as much as we will the beauty of his voice.
This column does not necessarily reflect the opinion of the editorial board or Bloomberg LP and its owners.
To contact the author on this story:
Stephen L Carter at scarter01@bloomberg.net
To contact the editor on this story:
Stacey Shick at sshick@bloomberg.net
Before it's here, it's on the Bloomberg Terminal.
LEARN MORE