If Obama Can't Close Guantanamo
The prison is staining the U.S. rule of law.
by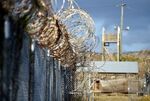 It's becoming increasingly clear that the U.S. prison at Guantanamo Bay, Cuba, isn't going to be closed during President Barack Obama's administration -- or beyond, despite the administration's efforts. That raises a deep question about foreign policy and the rule of law: What if Guantanamo never closes, and some of its detainees remain there for the rest of their lives?