Everyone But Kerry Expected 'Anytime, Anywhere' Inspections
Congress wanted access in Iran on short notice. Kerry says that wasn't on the table.
by and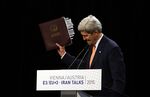 When Secretary of State John Kerry testifies in the coming days before Congress about the deal he just negotiated with Iran, he will have some explaining to do.