Did Putin Sell Out Greece?
A Greek report feeds a conspiracy theory that he bargained for leeway on Ukraine.
by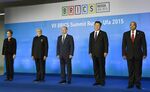 There's been a rash of conspiracy theories about secret concessions that Russian President Vladimir Putin is supposed to have made to Western leaders. The latest asserts that Putin could have helped Greece exit the euro but reversed course at the last moment, thus pushing Greek Prime Minister Alexis Tsipras into the cold embrace of European Union leaders.