How Islamic State's Succession Plan Could Destroy It
Its utopian dream requires a caliph in charge religiously and militarily.
by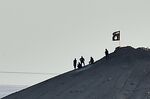 Leaked intelligence reports say that Abu Bakr al-Baghdadi, the titular head of Islamic State, is delegating authority in anticipation of his untimely demise. That raises some timely questions: Can you have a caliphate without a caliph? What will happen to Islamic State if Baghdadi is killed? And, by extension, how much effort should the U.S. and its allies put into trying to target and kill him?