When Congress and Religion Mix
On Israel, Iran and identity politics, it's party before faith.
by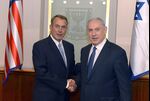 When I last checked, the U.S. was still a majority-Christian country. So what's the world coming to when the Republican Congress seems more excited to host Israeli Prime Minister Benjamin Netanyahu than Pope Francis? The answer holds a lesson about the role of religion in shaping symbolic politics -- and helps make sense of some of the opposition to the Iran nuclear deal. In the U.S., faith often jump-starts a political movement or position -- but pretty soon, politics takes over the driver's seat and brings the religion along.