Ukrainians Suspect Obama-Putin Cooperation
Did the U.S. push a pro-Russia constitutional amendment in return for help on the Iran deal?
by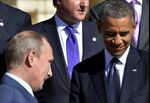 It's rare that official representatives of the U.S. visit foreign parliaments to persuade lawmakers to vote a certain way on some piece of legislation. Yet last week, Assistant Secretary of State Victoria Nuland traveled to Kiev and did just that, as the Ukrainian parliament prepared to vote on amendments to the country's constitution.