Greece's Debt May Not Be So Daunting
The IMF considers the sum unsustainable. The IMF could be wrong.
by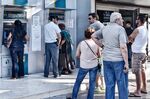 Greece's debt burden has taken on mythological attributes and questions about the dominant narrative have become a form of heresy. I, too, have repeated the line that "even the IMF considers Greece's debt unsustainable." Yet that is a half-truth and it has the potential to distort policy.