FIFA's Lame Defense, Coca-Cola's Beautiful Game
Sepp Blatter congratulated himself Monday, but sponsors aren't buying it.
by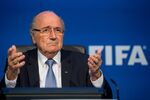 FIFA held a press conference Monday to announce the date of the election to choose outgoing President Sepp Blatter's replacement, as well as some reforms to address the pressure from investigators and sponsors into its corrupt business practices. It was as underwhelming as you'd expect from an entity that has resisted reform for decades.