ESPN Dumps Talking Heads for Moving Bodies
Colin Cowherd follows Bill Simmons and Keith Olbermann out the door.
by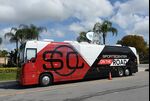 ESPN is losing another major on-air personality. The Big Lead's Ryan Glasspiegel reports that Colin Cowherd is out after nearly 12 years at the Worldwide Leader. Rumor has it the loudmouthed, hot-take master who routinely delivers facile generalizations disguised as social commentary might be heading to Fox Sports to reunite with its new president, Jamie Horowitz, who produced "SportsNation" when Cowherd co-hosted with Michelle Beadle.