Dodd-Frank's Job Isn't Done
The largest U.S. banks continue to present a risk to the economy.
by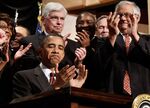 On July 21, 2010, President Barack Obama signed into law the Dodd-Frank Wall Street Reform and Consumer Protection Act, aimed at ensuring the financial system would never again bring the U.S. to the brink of economic disaster. Five years later, the job remains far from done.