view
Ted Cruz Has Money to Burn the GOP
With $52 million, he can attack Walker, Rubio and Bush for months on end.
by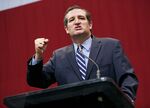 Texas Senator Ted Cruz sure has a lot of money. Cruz's presidential campaign raised $14.3 million in its first quarter. In addition, a network of super-PACs allied with Cruz raised $38 million. That makes $52 million in a matter of months. To put that in context, former Pennsylvania Senator Rick Santorum dogged Mitt Romney in the 2012 Republican primaries, lasting all the way until April, on about $20 million less than Team Cruz has already collected.   
CNN yesterday reported on a leaked PowerPoint presentation on Cruz's path to the White House titled "Can He Win?" Given the origin of the presentation, which was birthed by a pro-Cruz super-PAC, the answer wasn't in doubt. Nor, really, was the strategic path it envisions.
Cruz's advantage, according to the presentation, is his ability to exploit "wedge" issues much more effectively than a wimpy GOP establishment candidate such as Mitt Romney. The Texas Tribune, which also wrote about the presentation, said:
The presentation lists five issues on which it suggests Cruz would be the most competitive GOP nominee in a general-election matchup with Clinton: "Common Core," "Immigration," "Future Not Past," "National Security" and "Foreign Money."
The first two -- Common Core and immigration, just happen to be issues on which Jeb Bush (did we mention that establishment candidates are wimpy?) is crosswise with many Republican base voters. "Future Not Past" is already a theme of Young Marco Rubio's regular digs at Bush. On national security, Cruz is busy working to secure the far right of the Republican argument, more or less promising to bomb Iran at his earliest convenience. And while "Foreign Money" presages attacks on contributions to Hillary Clinton's family foundation, it might also give pause to a certain GOP candidate who began his international business career in the anti-American environs of Caracas. With his Mexican wife.
While Republican worthies fret about Donald Trump's tics, Cruz, who stands to inherit many Trump supporters when Trump teeters, may be the more dire threat. Since joining the Senate in 2013, Cruz has exhibited a steady disregard for the broader interests of his party. Indeed, he seems not only willing but even eager to damage his party in pursuit of personal advantage.
What does a man like that do with an opening bid of $52 million and the support of both small donors and some fabulously rich men?
Aim.
Bush probably won't be Cruz's first target. The most pressing business for Cruz is to consolidate support on the party's right, which will require reducing Scott Walker from Destroyer of Unions to just a guy who talks out of both sides of his mouth. Walker's inconsistency on key issues -- darned if we don't encounter immigration and Common Core again! -- is the sort of story that can be easily explained in 29.5 seconds. And Cruz's money will buy a lot of 29.5-second blocks to tell it.
If Cruz succeeds in dispatching the unreliable Walker, he can inherit some of Walker's support and turn either to Marco Rubio, if Rubio has gained traction, or to the main event: Bush.
The beauty of Cruz's positioning is that it insulates him from lesser claims on his virtue -- such as calls for partisan loyalty or Senate collegiality. If he annihilates Walker, Rubio and/or Bush -- any of whom is likely to be more electable than Cruz -- they will only be incidental casualties, the kind of sacrifices required of a true patriot. Some Republicans might wish that Cruz loved his country, or himself, just a little bit less. 
To contact the author on this story:
Francis Wilkinson at fwilkinson1@bloomberg.net
To contact the editor on this story:
Philip Gray at philipgray@bloomberg.net
Before it's here, it's on the Bloomberg Terminal.
LEARN MORE