view
Fox News's Arbitrary Debate Cutoff
The network could deal a blow to Republican presidential hopefuls like Kasich and Perry.
by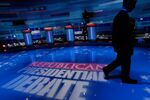 The closer we get to knowing which candidates Fox News will invite to the first Republican presidential debate, the goofier its standards for making those choices look.
HuffPollster has a nice chart showing the problem: Fox intends to choose 10 candidates for the Aug. 6 event, but there is basically a six-way tie for ninth through 14th place. Therefore, which two of those six candidates wind up above the cutoff will depend on which polls are included, how they are averaged and what random effects show up in the surveys used.
Here are several different polling averages, beginning with HuffPollster's best guess about whom Fox might include if its cutoff were today (all we have are guesses, as Harry Enten of FiveThirtyEight has documented; Fox isn't providing details of how it's going to make its decision).
Fox Average:
9. Chris Christie: 2.6 percent
10. Rick Santorum: 2.4 percent
11. Rick Perry: 2.0 percent
12. John Kasich: 1.8 percent
13. Carly Fiorina: 1.4 percent
14. Bobby Jindal: 1.4 percent
9. Christie: 2.7 percent
10. Perry: 2.3 percent
11. Santorum: 2.2 percent
12. Fiorina: 1.7 percent
13. Kasich: 1.7 percent
14. Jindal: 1.3 percent
HuffPollster Trend Estimate, using the "less smoothing" method, which is more sensitive to recent polls:
9. Christie: 3.1 percent
10. Santorum: 1.6 percent
11. Kasich: 1.3 percent
12. Perry: 1.3 percent
13. Jindal: 1.0 percent
14. Fiorina: 0.8 percent
9. Christie: 2.9 percent
10. Perry: 2.0 percent
11. Santorum: 2.0 percent
12. Kasich: 1.5 percent
13. Jindal: 1.3 percent
14. Fiorina: 1.0 percent
In some of these surveys, Christie has a seemingly solid grip on the ninth-place spot, leaving him safe even if Kasich gets a slight bump from his official announcement next week. In others, the New Jersey governor is only beating Rick Perry and Rick Santorum by tenths of a percentage point. Perry himself is in 10th place or 12th place, or tied for 10th.
None of these averages is more scientifically correct than the others; they do slightly different things and contain slightly different assumptions.
The Fox method, a simple average of five polls, is more vulnerable to outliers -- polls which, just from luck of the draw, wind up far off the real mark. Such results happen: For example, Fiorina reached 6 percent in two June polls; Perry had 7 percent in one. Flip enough coins, and eventually you'll get a long run of heads or tails. The entire group is packed close enough together that one random poll at the right time could give one of them a spot on the stage.
Of course, there's still time for a blast of publicity to move one or more of these candidates up from where they are, but not a lot. 
How much does any of this matter?
Five of these six candidates are viable on paper by my standards. They have conventional qualifications for the job (Fiorina, who has never held office, is the exception), and appear to be within the party mainstream on questions of policy. So by that measure, they are worth considering.
There's always the chance -- even if these candidates only get one-tenth or less of the time in a 90-minute debate -- that they'll say something to break out and move them up. True, most voters aren't paying attention yet, and the media's focus -- and more of the debate time -- will likely be on the front-runners and on Donald Trump, leaving even fewer minutes for a Perry or a Jindal. In that sense, being invited to the debate is like getting a low-odds lottery ticket.
While most primary voters won't be watching the debate, most highly involved party actors will. These well-connected people don't need debates to learn about the candidates. But you can imagine a county party chairman somewhere trying to choose among (say) Scott Walker, Mike Huckabee, Ted Cruz, Bobby Jindal and Rick Santorum deciding to count Santorum and Jindal out if they aren't in the debate.
It's also possible that party actors have already ruled out one or more of these marginal candidates. If this is the case, it doesn't matter whether they're included or not.
But for those marginal candidates who do still have a chance, losing this opportunity, based as it is on Fox News's decision on whom to include, will be a significant blow.
To contact the author on this story:
Jonathan Bernstein at jbernstein62@bloomberg.net
To contact the editor on this story:
Katy Roberts at kroberts29@bloomberg.net
Before it's here, it's on the Bloomberg Terminal.
LEARN MORE