Europe Makes Its Taxpayers Gamble on Greece
The socialization of private debt will lead either to a fiscal union or to Greece's exit.
by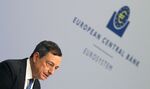 European Central Bank President Mario Draghi on Thursday reiterated that his institution has "always acted on the assumption that Greece is and will be a member of the euro area." He also provided stark data about the huge involvement in the Greek banking system of the euro central banks, whose deposits now exceed those of all others combined.