Why Obama Won't Stop Talking About Iran
A strategy that makes Republicans mad will unite Democrats.
by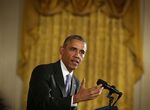 At his long news conference Wednesday on Iran, President Barack Obama took several questions, then solicited more, and eventually gave up and just answered his own queries on the deal. 
Expect more of this.
Why? Blame the congressional rules for blocking the agreement and partisan polarization.
What Obama needs in order to have the Iran agreement go into effect is backward from normal politics. He needs inaction. That can happen if the House defeats a resolution against the deal, and if the Senate does the same (possibly by filibuster). Or, if Congress approves such a resolution, he can veto it.
He only needs to hold the Democrats in line for a veto to be sustained.
By speaking out in favor of something, and doing it repeatedly, presidents tend to polarize public opinion along party lines. If he needed bipartisan support, the best strategy would be to keep his mouth shut.
But Obama doesn't need any Republican help. He just needs Democrats to stick together, and not base their votes on interest-group attachments or, for that matter, on their personal views. 
While Obama thinks the Iran agreement should win on its actual merits -- otherwise he wouldn't have agreed to it! -- not everyone sees it the same way. He can try to give swing voters in the House and Senate substantive reasons to support it. But this wouldn't be as efficient as simply getting the Democrats to act as partisans.
This column does not necessarily reflect the opinion of the editorial board or Bloomberg LP and its owners.
To contact the author on this story:
Jonathan Bernstein at jbernstein62@bloomberg.net
To contact the editor on this story:
Katy Roberts at kroberts29@bloomberg.net
Before it's here, it's on the Bloomberg Terminal.
LEARN MORE