Samsung Wants Shareholders to Have Cake and Vote, Too
This is the story of a $5,200 walnut cake, depending how you count.
by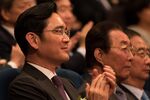 Proxy fights in South Korea are very different from those in the U.S. On the one hand, they are so much nicer. I mentioned this morning how impressed I am by the personal touch in Samsung C&T's efforts to win votes for its proposed merger with Cheil Industries. Samsung C&T has courted minority shareholders with hand-written notes, house calls, watermelons, walnut cakes and a general sense of humility often absent in American proxy fights. Linguistic humility, anyway. "Even a single vote entrusted to us would be of great help," says Samsung C&T. "We desperately plead with Samsung C&T shareholders," it says. I feel like American management teams don't do enough desperate pleading.
On the other hand, they are also a lot meaner? I am just putting this out there, but in 2015 in America, takeover battles also don't come with a ton of anti-Semitism in the mainstream press. 1  I do not quite know how to square these things. 
In any case, it seems like it would be exhausting and also expensive to send personalized tasty treats to all your shareholders. But it might well be worth it, and you can kind of ballpark how much it's worth. So for instance take the walnut cake guy:
An owner of 3,000 shares told Reuters he was visited three times last week by a C&T representative, who on one occasion bore walnut cakes in keeping with local gift customs.
By my math those walnut cakes are worth at least $5,200. Let me explain.
Some background, which we've discussed previously. 2  Cheil Industries has agreed to buy Samsung C&T in an all-stock merger. The Samsung C&T shareholders vote Friday, the merger requires a two-thirds majority, and the vote is close. 
Hedge fund Elliott Associates, a 7 percent holder of Samsung C&T stock, is fighting for a better deal. Samsung C&T and Cheil Industries are both part of the Samsung group, a chaebol of public companies controlled by the Lee family. But the family owns more of some companies than others. Cheil, in particular, is often described as the "de facto holding company" of the Samsung group, in part because its biggest shareholder, with more than 23 percent of the shares, is Lee Jae Yong, the Samsung heir apparent. And there's a problem:
Lee Jae-yong is bound to inherit his family's stakes in Samsung Electronics—Lee Kun-hee alone owns a 3.4% direct stake—and other affiliates, but the inheritance tax bill of more than $5 billion he is expected to face could force him to liquidate some of his positions.
Selling down many small positions spread across the Samsung group is tricky and risks losing control of some of the companies. So the family wants to roll up the group into fewer, bigger companies, so that it can sell some shares without losing control of the group. 3 And Cheil, which went public last year as the de facto holding company, looks to be the consolidator. 
The awkward thing is that the Lee family is influential on both sides of the transaction: It is a buyer, with its holdings of Cheil, and a seller, with its holdings of Samsung C&T. But because it is a much bigger holder of Cheil than of Samsung C&T, its incentives are to get a lower price for its Samsung C&T shares, which will concentrate its ownership:
"There are many possible scenarios about Samsung's structural shake-up, but the sure thing is that the value of Cheil, in which the Lee family owns the biggest holdings, will be maximised," the local stockbroker E*Trade Korea said shortly before the company's flotation in December.
So one thing that you might expect to happen would be that Samsung C&T's board, in deference to the Lee family, would strike a sweetheart deal to sell the company cheap to Cheil. And that is exactly what Elliott thinks is happening. 4 But it is more complicated than that, because South Korean law actually prevents the board from setting the price. (As far as I can tell, this is to prevent the risk of a sweetheart deal precisely like that.) Instead, as Samsung C&T has repeatedly pointed out, the exchange ratio of a stock-for-stock merger is set by law based on the average prices of the two companies' shares over the previous month. 5 The market, not the board, sets the exchange ratio.
But the board sets the timing. Here's my rough calculation of the share ratio over time 6 :

Notice that the low point for this ratio is about 0.34 Cheil shares per Samsung C&T share, reached on May 29. The merger was announced on May 26, with a ratio of 0.35 Cheil shares per Samsung C&T share -- the lowest the ratio had been all year.
And then it jumped back up on June 4 when Elliott announced its involvement. The theory, one assumes, was that Elliott could negotiate a better deal. Now there's a problem with that theory, which is that, remember, the ratio is set by law, so you can't really negotiate a better deal:
Left with less favorable options, some analysts say the Lee family's best option if the deal fails is simply to try to strike the deal again at a richer premium. South Korean law doesn't allow a company to sweeten a merger proposal once it has been made, which means an entirely new merger proposal would have to be submitted—a process that Samsung executives have publicly sworn off.
But there could be a new proposal, and given the need to consolidate the group -- and Samsung C&T's massive holdings of other Samsung group stocks -- many people suspect that there would be, despite those protestations. 
Let's imagine that the company loses the vote tomorrow and Cheil immediately submits a revised proposal. Remember, the ratios are set by law, but they are based on market prices, and the market prices have moved closer together. If Cheil submits a new offer based on today's prices, then by my math the proposal would have to be at about 0.36 Cheil shares per Samsung C&T share. 7 That's a pretty small bump, surely not enough to satisfy Elliott or make its fight worthwhile. But even that change in the ratio is a 3 percent bump on a $9 billion company, meaning that it's worth about $270 million. 8  The walnut cake guy owns 3,000 shares, worth about 208 million won ($180,000) at today's closing price. That small bump in the exchange ratio would give him an extra $5,200 or so. 9 Sending him a walnut cake is a good value for Cheil, by this math, though of course note that Samsung C&T -- the seller -- is the one actually sending the cake. 
Obviously I don't want to give anyone investing or voting or, lord knows, South Korean legal advice, and I don't know whether eating the cake and voting for the deal is a good idea for him. If this deal is voted down, there is no guarantee that Cheil would propose a better one, and if it doesn't, Samsung C&T might end up doing much worse on its own than it would have with Cheil. (Samsung C&T: "Must the future of Samsung C&T and Cheil Industries be hindered like this?" Elliott: "Elliott has noted what appears to be an intentional and rather desperate campaign to downplay the future equity value of Samsung C&T, despite it being a highly successful and valuable standalone business over the long-term." 10 ) And of course it would be a little silly to propose a new deal at a 0.36 exchange ratio after being rejected at 0.35.
But the more plausible upside case if the deal is voted down is that Cheil's price drops and C&T's rises, as investors expect a new, more favorable deal. 11 And then that becomes self-fulfilling: Any new deal would be based on the new market prices, and those prices would reflect a new balance of power. Cheil trades rich because investors think it will be able to buy other Samsung group companies cheap. Those other companies trade cheap because investors think they will be sold to Cheil cheap. Change those expectations, and the market prices will change; change the prices, and the ratios will change.
That's clearly what Elliott is thinking: It owns small stakes in Samsung Fire & Marine Insurance and Samsung SDI, and if it succeeds in blocking this deal, then those companies will be harder targets for Samsung consolidation. The fixed exchange ratios for South Korean mergers have an odd leveraging effect: If the market concludes that the Samsung group can be rolled up cheaply at the expense of minority shareholders, then it can be. But if that expectation changes, then so will the prices -- and so will the reality. 
This column does not necessarily reflect the opinion of the editorial board or Bloomberg LP and its owners.
To contact the author on this story:
Matt Levine at mlevine51@bloomberg.net
To contact the editor on this story:
Paula Dwyer at pdwyer11@bloomberg.net
Before it's here, it's on the Bloomberg Terminal.
LEARN MORE