One Thing Europe Got Right in Greece's Crisis
Even if Greece crashes, the currency will hold strong.
by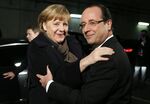 Greece's slow-motion economic car crash is an ongoing debacle, but Europe's success at ring-fencing the disaster has been remarkable. Judging from the currency market, the threat of contagion in Europe has steadily diminished month by month since March.