Bill Gross Gets Inside Fed's Head on Rates
Keeping rates at 0 starts to look risky.
by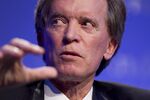 China's stock market has crashed. A Greek default is certain. The euro looks shaky. U.S. economic data is weak. Inflation is below target. So why on Earth is the Federal Reserve on course to raise interest rates, a move usually designed to slow an overheating economy?