U.K. Rates Aren't Going Anywhere
Britain's central bank can afford to leave interest rates alone.
by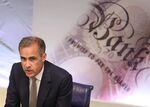 Mark Carney is just itching to raise interest rates. The Bank of England governor has been dying to flex his monetary policy muscles since at least August 2013, but the U.K. economy isn't playing ball. With inflation still conspicuous by its absence, Carney should curb his enthusiasm until the data justifies a move.