Soccer, Tennis and Bridging the Gender Pay Gap
Pat Leahy's crazy call for World Cup equality raises a good point.
by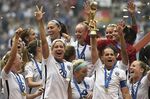 The success of the U.S. Women's National Team in the Women's World Cup has re-invigorated the debate over the gender pay gap in sports. The champions pulled in just $2 million in prize money -- compared with the $35 million Germany earned for winning the men's tournament last year. Every one of the 32 men's teams earned at least $8 million in 2014 just for participating in the World Cup.