'Watchman' Is Harper Lee for Grown-Ups
Lee's just-published novel is rich, complex and more nuanced than "To Kill a Mockingbird."
by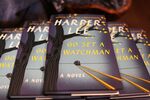 It's been fascinating, if a bit depressing, to watch the backlash build against Harper Lee's newly discovered novel "Go Set a Watchman," which went on sale Tuesday. Now that Atticus Finch turns out to harbor racist views, fans of "To Kill a Mockingbird" have taken to social media in large numbers to announce that they will boycott the book. Some even insist that Lee could not possibly have written it.