Twitter Attracts Spoofers
Twitter Stockholders Can't Take a Joke, but honestly the joke is getting old by now.
by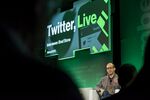 Yesterday I was a bit blasé about the October 2014 Treasury flash crash/rally, in which algorithms spent 12 minutes or so taking money from each other and, occasionally, themselves. One reasonable concern, though, is that when robots trade nonsensically with each other they undermine human confidence in markets. How confident does this make you feel?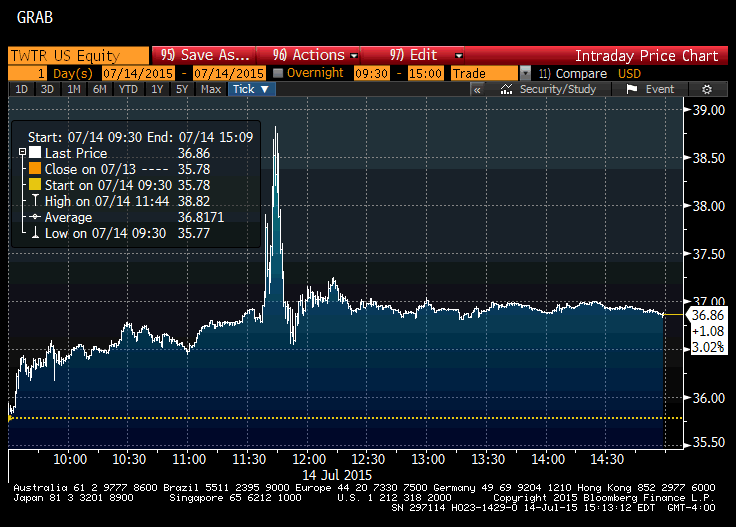 That's the stock price chart of Twitter, which spiked for about 10 minutes this morning after a fake news report hit the Web page www.bloomberg.market, which I do not especially recommend that you visit. 1  The report -- remember, fake! -- said that Twitter had received a $31 billion buyout offer and was "working closely with bankers." It more or less looked like Bloomberg -- it's easy to cut and paste HTML -- but it is, again, fake: www.bloomberg.market is not a Bloomberg site, and was "registered on July 10 to a post-office box in Panama belonging to WhoisGuard Inc." There were several tip-offs, including a misspelling of Dick Costolo's name, an "it's" that should be an "its," and a headline, "Twitter Attracts Suitors," that is way too short to be an actual Bloomberg headline. The Securities and Exchange Commission is investigating.
That little blip on the chart is ... actually not so little? According to my (real) Bloomberg terminal, some 16.3 million shares -- $617 million worth -- traded in the 11:39 to 11:49 window, at an average price of $37.83 per share and a high of $38.82. Outside that window, Twitter hasn't gotten above $37.25 today. 2  So figure buyers during the blip lost an average of 58 cents per share, and you've got a $9.5 million blip. 3  One cannot entirely rule out the possibility that whoever published this story was doing it as a lark, or as a school project in Web design, but realistically the person who published the story was probably also selling Twitter stock (or call options) as it went up. 4
So one question would be: Who was it? The SEC has basically blamed all prior stock-market hoaxes on one hapless Bulgarian, Nedko Nedev, though that has aroused some skepticism. In any case they don't seem to have him in custody, or even really know where he is, so I suppose it's possible that this is his work too, and he is just taunting them from Panama. On the other hand, this isn't rocket science, and Nedev -- and the SEC complaint against him -- laid out a pretty straightforward blueprint for any imitator to follow. 
Actually Nedev's alleged hoaxes were a little more sophisticated in that they involved fake securities filings on the SEC Edgar system and a fake press release on Business Wire. Putting something on Edgar isn't all that much harder than putting it on the Web -- you do need a notary -- but it has some key advantages. Edgar and Business Wire have a veneer of officialdom, and news services and trading algorithms scrape them for news. It is hard to see why anyone would be scraping www.bloomberg.market, which only came into existence four days ago, although it now shows up on Google. After you publish a fake story, you need to follow up by disseminating it somehow, and it's still a little mysterious how today's story escaped www.bloomberg.market and found its way to the people buying the stock.
Of course, the Internet has no shortage of vectors for spreading hoaxes. And of course, Twitter is one of them, maybe the best. 5  I'd bet it was Twitter. 
Here is where I'd usually say that the hoax probably duped algorithms, who tend to be more literal and less attuned to nuance than most humans, even human day traders. But I'm less confident of that in this case. Algorithms are rigidly rule-bound, and while they can be thrown for a loop by finding fake news where real news ought to be, they have no reason to go looking for fake news in places where they've never found real news. If you put fake news on Business Wire or Edgar, an algorithm will find it and act on it before any human realizes that it's fake. But if you put it on www.bloomberg.market, I think you'll need a human patient zero to pick it up and transport it to somewhere (probably Twitter!) where a machine might notice it. I can't be sure, but I suspect today's hoax had to fool at least a couple of humans before it could take in any machines, 6  though of course once it got going the machines could have followed the humans. Thus the attention to making www.bloomberg.market look like www.bloomberg.com.
In any case, the result of this hoax was the same as that of the Avon hoax, and pretty similar to the more benign Tesla joke: The stock went up quickly, then went right back down, costing some people time and annoyance and, perhaps, undermining confidence in markets. Though the worst psychological effects will probably not be on potential victims, but on potential imitators. Every time a hoaxer shows how fragile our modern markets are, people like me cluck about it, but honestly most people shouldn't worry all that much. The market is fragile over some 15-minute increments, but most people shouldn't be thinking in 15-minute increments. On the other hand, every time a hoaxer shows how fragile our modern markets are, surely he inspires more hoaxers. This stuff is really easy! And it keeps working! Why wouldn't there be much more of it?
For posterity here is the -- entirely fake! -- story:

Twitter Attracts Suitors

John McFarlane

July 14, 2015 — 11:36 AM EDT

(Bloomberg) -- Twitter is working closely with bankers after receiving an offer to be bought out for $31 billion, people with knowledge of the situation said.

Shares of Twitter have declined 35% since last reporting earnings and the company has recently become the subject of intense speculation as to its future.

Last month, upon announcement that chairman and co-founder Jack Dorsey would be appointed interim CEO while they searched for a new leader, Twitter stock rose 8%. It was a clear signal from Wall Street that it was happy the company decided to part ways with ex-CEO Richard "Dick" Costello.   Under his leadership the company struggled to add new members and generate more revenue from it's ad products.

While a deal is expected to to be reached, bankers may rebuff any suitor or work out an eventual sale, the people said asking not to be named as the information is private.

In the past, Google has been named most likely to buy the micro-blogging site, but the people said there was also strong interest from an un-named foreign buyer.

Spokespeople from both Twitter and Google couldn't be reached for comment.

As of 3 p.m. Source: Bloomberg, TWTR <equity> VAP and GIP. The average price is a volume-weighted average.

That's a bit silly -- presumably a lot of people/computers who bought near $38 on the way up also sold near $38 on the way back down.

Incidentally, I have previously analogized this behavior to "spoofing." I realize that it is not classical spoofing, but I'm sticking with that headline.
To contact the author on this story:
Matt Levine at mlevine51@bloomberg.net
To contact the editor on this story:
Zara Kessler at zkessler@bloomberg.net
Before it's here, it's on the Bloomberg Terminal.
LEARN MORE