The Best Bad Deal on Iran
At least it sets the nuclear program back by a decade.
by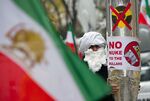 The Iran deal published Tuesday has drawn the expected criticisms. Taken together they add up to something like: a "historic mistake" that ensures Iran will get a nuclear bomb and amounts to "declaring war" on Israel and the Gulf Arab states.