Greece and Europe: An Unhealthy Affair
When you're stuck in a bad relationship, it's time to move on.
by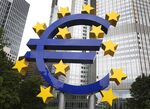 Remember the birth of the euro, when countries had to clear a set of economic hurdles to be considered worthy of membership? Those thresholds on debts and deficits had two purposes: to prevent profligate nations from tarnishing the new currency, and to make sure each country, once admitted, could keep up in bad times as well as good. The former is why Europe's leaders should jettison Greece; the latter is why their strenuous efforts to keep Greece in the euro are inappropriate and downright cruel.