Florida State Football's Two-Tiered Justice System
Two athletes allegedly hit women. Why does only the lesser player get kicked off the team?
by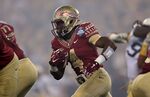 Florida State University's bizarre brand of justice is back on display.

The school is in damage-control mode after separate reports that two of its football players punched women. Freshman quarterback De'Andre Johnson was dismissed from the program after a video showed him striking a woman in the face at a bar on June 24. Johnson was charged with misdemeanor battery and has retained attorney Jose Baez to take his case. Baez -- the guy who successfully defended Casey Anthony, the Florida woman acquitted on charges of murdering her 2-year-old daughter -- says the woman provoked Johnson with "racial epithets" and a kick to the groin.