China's Economic Troubles Start to Spread
The world's second-biggest economy could cause a global recession.
by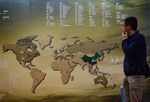 Singapore is the closest thing Asia has to an economic barometer. Its highly open, trade-reliant economy usually signals when trouble is approaching the global stage. And at the moment, Singapore is flashing clear warning signs.