Blame George W. Bush for Iran Deal
Tehran might have been contained if Iraq were still a strong state.
by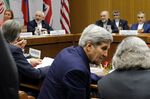 Today is the worst day of the George W. Bush administration. The deal U.S. President Barack Obama has struck with Iran to curb its nuclear weapons program amounts to a pragmatic recognition that Iran has joined the U.S. as a crucial regional player not just in the Persian Gulf but also in the whole Middle East. Iran's rise wouldn't have been possible -- and the deal wouldn't have been necessary -- had the U.S. not unleashed Iran from the regional power that did the most to contain it: Saddam Hussein's Iraq.