Reddit's Ellen Pao Can Only Blame Herself
Under her brief leadership, Reddit seems to have careened from disaster to disaster.
by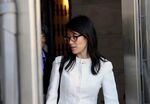 Those who weren't following the news from Greece this weekend may have noticed that Ellen Pao resigned from Reddit Inc., after recent management decisions sparked a user revolt. This has been brewing, but the proximate cause was the firing of a popular employee who worked with Reddit moderators. The moderators responded by shutting down a number of popular subreddits, including the well known ask-me-anything forums. A very popular petition was launched, demanding her ouster. And on Friday, Reddit capitulated.