Hong Kong, China's Real Stock Market, Remains Calm
There's only one Chinese city where investors don't have to worry about government interference.
by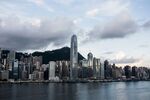 Not so long ago, Hong Kong was regularly dismissed as a financial backwater -- not just internationally, but even within China. Many pundits started writing the city's obituary when Jack Ma, CEO of China's e-commerce giant Alibaba, rejected listing his company in Hong Kong, in favor of New York. And as Shanghai's stocks skyrocketed in recent months, it seemed to confirm Hong Kong's obsolescence.