Hillary Clinton Runs as Obama-Plus
That should rally Democrats and polarize Republicans.
by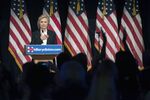 Hillary Clinton's speech today on the economy was more of a table-setter than a genuine policy repast. The outline was bold while the details were mostly left for other days. But her words made one thing clear: The 2016 presidential campaign will feature even more partisan polarization than the 2012 one did.