Would You Lend Greece $60 Billion?
If Europe were a bank, it would cut its losses.
by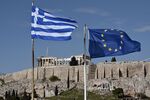 Keeping Greece within the euro zone and the European Union is a political question. Yet it's also about money, and it may be worthwhile to consider how Europe would act if it were a bank confronted with a big delinquent debtor.