Friday Food Post: Frozen Custard's Last Stand
Don't let bird flu keep you from enjoying real ice cream this summer.
by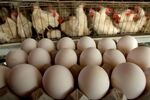 I don't really care for soft-serve ice cream. I still have a sort of sneaking nostalgic fondness for the idea of getting soft serve -- breathes there an American with heart so dead that they can hear the sound of the Mister Softee jingle without longing to be a six-year-old headed to the truck? But the actual stuff always seems to be bland and vaguely unpleasant in texture. It is the Cream of Wheat of frozen desserts.