Angel Investing, Government-Style
How the "entrepreneurial state" can help startups succeed.
by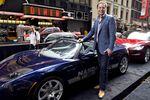 Should the government be an angel investor? Mariana Mazzucato thinks so. The University of Sussex economist and author of the bestselling book "The Entrepreneurial State" argues that government funding is essential to the research and development that creates the companies of tomorrow. That includes funding for basic and applied research -- an example would be the Defense Advanced Research Projects Agency (DARPA) funding that created much of the Internet -- and also funding for startups that develop their technology in-house.