Trump Gives Republicans What They Wanted
He's playing by rules the party set.
by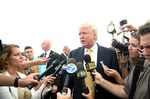 Reince Priebus, the chairman of the Republican National Committee, has reportedly asked Donald Trump to "tone it down." That's OK, I suppose, but it misses the larger point: Priebus himself has set up a process that is begging Republican candidates to amp things up. He's only getting what he asked for.