5 Reasons China Matters
Market rout could be far more disruptive than the Greek crisis.
by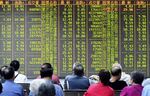 The rebound of Chinese stocks Thursday shouldn't lull global investors into a false sense of complacency: That country's equities market isn't out of the woods quite yet. In addition to stabilizing prices and sustaining a gradual price recovery process, the government must take on the challenge of restoring normal functioning to a market roiled by share suspensions and manipulation.