If You Think of Putin, He Has Won
Is Russia underestimated or irrationally feared?
by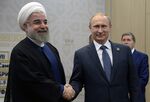 Is President Vladimir Putin strong or weak? Is Russia a paper tiger or can it roar? This is suddenly a hot topic among Russia experts. It's fun to follow, but it's also depressing, because it shows how successful the Russian leader has been in achieving his self-serving goals.