Greece Is Merkel's Failure Too
Greece's creditors blew their chance to collect 70 percent of what they were owed.
by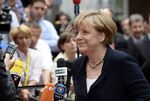 By voting no in last Sunday's referendum, and by such an impressive margin, Greece won itself a moment's elation -- and may come to regret the consequences for years. It was one more in an absurdly extended series of miscalculations.