China's Illness Is Contagious for Asia
The region wants to know if Beijing has a crisis strategy.
by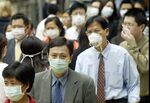 When the U.S. sneezes, an old saying goes, the world catches a cold. That's been nowhere more true than in Asia. But as China's coughing fit grows louder, countries in the region are wondering whether their neighbor's illness will also prove contagious.