No Should Mean No to Protect the Euro From Greece
The euro needs to be freed from "grimbo."
by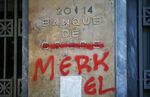 Even before Greece's referendum last weekend, European Union leaders said it would be interpreted as a vote on whether to stay in the euro. So it's curious that Greece has been given five more days to come up with a credible plan to receive another bailout package. It's also downright dangerous for the European project's future integrity.  While German Chancellor Angela Merkel doesn't want to preside over a fracture of the European Union's finest achievement, she needs to concede the inevitable: The euro will be better off without Greece, and Greece may well be better off without the euro.