Game Over in China for PlayStation and Xbox
China's gamers prefer PCs and phones to TV screens.
by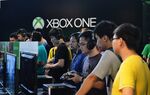 When Sony and Microsoft introduced their PS4 and Xbox One gaming consoles to China to great fanfare earlier this year, executives at those companies would have been forgiven for imagining massive profits on the horizon. China is home to 515 million gamers, of which only around 9 million, according to Bloomberg News, play on televisions. That makes China an anomaly among the world's other biggest gaming countries. If even a small fraction of China's PC gamers could be convinced to switch, China's console market would quickly become one of the world's largest.