The Pope's Visit Won't Cure Ecuador
It doesn't seem like President Correa is listening to the pope's message.
by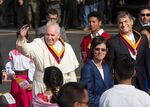 No one has ever accused Ecuadorean President Rafael Correa of modesty. In his welcome to Pope Francis, who arrived in Quito on Sunday to begin a weeklong, three-country visit of the region, the Andean strongman didn't disappoint.