Goldman Coder Goes Free, But Insider Trader Stays in Jail
Bad news: It's no longer legal to tip your brother-in-law about mergers.
by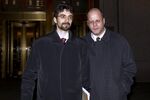 Monday saw two pretty interesting court decisions about what information you're allowed to steal from your employer without going to prison. First there is Sergey Aleynikov, whom you might remember as the programmer who was arrested, tried and convicted of stealing high-frequency trading code from Goldman Sachs; was sent to prison; had his conviction reversed; and then was rearrested, retried and reconvicted in state court. Monday he had that conviction re-reversed. That decision can be appealed, and perhaps it will be, though you'd hope that everyone would be sick of trying to put Sergey Aleynikov in prison by now.
The state judge's decision reversing Aleynikov's conviction turns on a very long and sort of arid discussion of what the word "tangible" means, 1 but the upshot is, roughly, if you are stealing high-frequency trading code in New York, steal it on a thumb drive (not a crime), not on a paper printout (probably a crime, also not that useful). I hasten to emphasize that this is not legal advice. 2 It makes no sense, but then, the law making this stuff a crime was enacted in 1967, when the only way to steal code was to print out several tons of punch cards and then dynamite your way out of the building. The law is dumb.
The other decision was a federal appeals court's ruling upholding the conviction of Bassam Salman for insider trading. Here's the opinion, which is from the U.S. Court of Appeals for the Ninth Circuit in San Francisco, but which was written by Jed Rakoff, a notable federal district judge in New York, who I guess happened to be in town that day and decided to drop by the courthouse. 3  Salman was convicted of insider trading on tips that he got from his brother-in-law Mounir ("Michael") Kara, who in turn got them from his brother Maher Kara, who worked in health-care investment banking at Citigroup. 4  The evidence seems to have been that Salman knew that the information came from Maher Kara's work at Citigroup and that Michael Kara, and Salman, weren't supposed to have it.
But under the U.S. Court of Appeals for the Second Circuit's big recent insider trading ruling, U.S. v. Newman, that isn't quite enough. It's not a crime to trade on material nonpublic information, even if you know that it's material and nonpublic, unless the person who provided the information got some "personal benefit" for doing so, and you knew about the personal benefit. This has been the law forever -- it comes from a 1983 Supreme Court case called Dirks v. SEC -- but for a long time everyone thought it was kind of a joke. In Newman, the Second Circuit said, no, that was serious: "In order to form the basis for a fraudulent breach, the personal benefit received in exchange for confidential information must be of some consequence." 
This revival of the personal benefit test caused ... a certain amount of consternation. Politicians kept trying to strike the personal benefit requirement out of insider trading law, though they were hampered by the fact that there's no actual law against insider trading so they'd have to write one from scratch. And while I tend to be more permissive about this sort of thing than the average congressman -- and I thought Newman himself was totally innocent -- even I found the implications a bit extreme. It sure looked like you could just tip, say, your brother about an upcoming merger at your company, and he could freely trade on it as long as he didn't share the profits with you. 5  That's weird!
It seemed weird to Judge Rakoff too:
If Salman's theory were accepted and this evidence found to be insufficient, then a corporate insider or other person in possession of confidential and proprietary information would be free to disclose that information to her relatives, and they would be free to trade on it, provided only that she asked for no tangible compensation in return.
But he's a judge, so he gets to reject it: 
To the extent Newman can be read to go so far, we decline to follow it. Doing so would require us to depart from the clear holding of Dirks that the element of breach of fiduciary duty is met where an "insider makes a gift of confidential information to a trading relative or friend." Dirks, 463 U.S. at 664. Indeed, Newman itself recognized that the "'personal benefit is broadly defined to include not only pecuniary gain, but also, inter alia, . . . the benefit one would obtain from simply making a gift of confidential information to a trading relative or friend.'" 
He concludes that "Proof that the insider disclosed material nonpublic information with the intent to benefit a trading relative or friend is sufficient to establish the breach of fiduciary duty element of insider trading."
So, look. This makes a kind of sense to me. You can divide insider tips into three rough categories:
Tip for benefit: Tipper gets paid for the tip.
Tip as a gift: Tipper wants brother to make some money, gives him tip, is happy when brother trades.
Tip that is just, like, saying stuff: Investor relations employee says a bit too much to a hedge-fund analyst just because, you know, it's fun to gossip about mergers or whatever.
Category 1 is a crime. Newman said that category 3 is not a crime. Salman says that category 2 is. It has an intuitive appeal. Sometimes you do get a personal benefit from giving a gift. Like, if you're invited to a wedding, you have to give the couple something. Say you'd get them a set of wine glasses that costs $100. But instead you come up with the bright idea of tipping them off to an upcoming merger. You buy a card, write a nice note including the material nonpublic information and best wishes for a happy life together, and save yourself $100 that you would otherwise have had to spend. Personal benefit!
Or if you've got a no-good brother whom you love and want to support, that will cost you money. Unless you give him material nonpublic information to trade on, in which case, you can avoid the expense. Something like that seems to have happened in the Salman case:
Maher, for his part, testified that he "love[d] [his] brother very much" and that he gave Michael the inside information in order to "benefit him" and to "fulfill[] whatever needs he had." For example, Maher testified that on one occasion, he received a call from Michael asking for a "favor," requesting "information," and explaining that he "owe[d] somebody." After Michael turned down Maher's offer of money, Maher gave him a tip about an upcoming acquisition instead.
See, Maher Kara saved himself some money by giving his brother a merger tip instead. Personal benefit!
On the other hand, the opinion does read like a return to the olden days where the personal benefit test was just a joke. If just wanting someone to have information -- "simply making a gift of confidential information to a trading relative or friend" -- is enough to be a personal benefit, then what isn't enough? 6  It seems like you ought to be able to draw a line between category 2, where the tipper essentially helps himself by supporting a loved one (with material nonpublic information), and category 3, where the tipper just tells a guy something over the phone because he felt like it. But it's not easy. The Newman opinion actually did try to draw that line:
To the extent Dirks suggests that a personal benefit may be inferred from a personal relationship between the tipper and tippee, where the tippee's trades "resemble trading by the insider himself followed by a gift of the profits to the recipient," see 643 U.S. at 664, we hold that such an inference is impermissible in the absence of proof of a meaningfully close personal relationship that generates an exchange that is objective, consequential, and represents at least a potential gain of a pecuniary or similarly valuable nature. 
That is not super clear, but I think it means, you know, you at least have to save the cost of a wedding gift. Judge Rakoff's decision seems to have a lower requirement: Any gift to a "relative or friend" is enough. "If that were true, and the Government was allowed to meet its burden by proving that two individuals were alumni of the same school or attended the same church, the personal benefit requirement would be a nullity," as the Second Circuit said in Newman.
Maybe it should be a nullity? That is certainly what the politicians think. But I sort of like the personal benefit test as a reminder that insider trading is not about fairness, but about theft. It wouldn't be illegal for Bassam Salman to trade in advance of a merger that he guessed would happen by doing fundamental research, or by tracking the private jets of the merger parties, or by finding an investment bank pitchbook in the garbage, or by overhearing his brother-in-law talking about it at a party. 7  It's not illegal to have more information than the market. It's illegal to trade on information that his brother-in-law took from his employer and used for his own personal benefit (however you define personal benefit). Insider trading law is about protecting corporations from theft of their informational property, not about protecting investors from better-informed traders.
You might wonder, though, how much those corporations need protecting. Sergey Aleynikov's lawyer on Monday "described the charges against his client as a 'civil dispute masquerading as a criminal case.'" Goldman Sachs is not exactly lacking for lawyers; if it is mad about people using its code -- if there is a dispute about how much of the code was Goldman's and how much was open source -- it can sue them. 8  Money is a perfectly adequate way to resolve the dispute; no one really has to go to prison to protect corporate interests. A lot of people seem to think like this when the person going to prison is Sergey Aleynikov and the corporate interests are Goldman Sachs's. It's a little weird that so few people think it about insider trading.
To contact the author on this story:
Matt Levine at mlevine51@bloomberg.net
To contact the editor on this story:
Stacey Shick at sshick@bloomberg.net
Before it's here, it's on the Bloomberg Terminal.
LEARN MORE